This time is all about setting 2018 goals, which is an important task in order to set our direction and keep us moving forward. It is a good feeling to check what you have accomplished and completed in 2017, feel proud of it, and plan your 2018.
According to research, there is a 42% higher possibility that you will achieve your goals if you write them down. That is important take into account for all our goals – daily, yearly and long-term life goals. It is a good way to remind yourself to accomplish what really matters, and what is really important for you to achieve. And after you finish that, you have time for all other things.  
For yearly goals, I use the 2018 Best Year Ever Guide by Mel Robbins. I found it simple and efficient. It is a planning guide to complete your 2017 and set your 2018 goals. Mel said that you first need to complete 2017 so that you know the starting point, and you can set powerful goals that are intelligent, that matter and are achievable.
Areas that Mel is covering are: health, work, love, and fun. I have also added style. Why? Because I want my style to be aligned with my other goals. I want the story that I want to express to the world through my style to be part of my goals.
If you don't know what you are conveying through your style, you might deliver a wrong message.
This time of the year is also full of sales, which is another reason why we need to have our own style goals and, based on them, prepare our own shopping list. For me, this was a game changer in order to avoid missed purchases.
Most of the time we don't act and decide rationally but based on our feelings. For smart decisions and actions, it is, therefore, significant to have your own plans and goals.
Prepare your shopping list, check the items online upfront and have your wish list prepared before the sales start so that at the time of sale, you just check items on your wish list. If you follow these steps, you have basically no room for missed purchases.
I hate the words "must have pieces", which you can read about everywhere in relation to fashion, although I know it is a marketing term. I basically hate "must have" for any area of my life, but when it comes to my style – even more, since style is in a way the creative part of life, and there is no place for a "must."
You are the boss of your style, so to avoid purchases that you would regret later, make sure that you buy just the right items for yourself.
Start at the beginning – set your own goals and follow through.
If you haven't had a chance yet, check my Ultimate Woman Guide to Creating a Business Casual Wardrobe and print out the Do-it-yourself worksheet.
Before you buy any missed piece, check the steps in the worksheet and focus at least on those that you find the most important for yourself – your style goals, life activities that you need clothes for, your color palette, your budget and last but not least what kind of message you want to deliver through your style.  
Below, I have summarized some items and styles that inspire me at the moment and would recommend to include them in your wardrobe.  
 #1 CHECK PATTERN (OR TARTAN)
This winter is full of check clothes and accessories, you can basically find them everywhere. I like this style as it looks clean and can build a classic and sophisticated outfit. It is easy to pair them with basic pieces as well as more casual clothes. Which piece to choose, depends on your needs.
COAT
This is the most trendy check piece at the moment. If you want to update your winter wardrobe with a different item but still chic this is a solution. Especially, if you already have a classic dark coat.
Don't exaggerate with colors as the pattern itself is special enough, so stay in gray, brown or black and white. Choose the one that flatters your personality,  would complement the rest of your wardrobe and would make you feel like you stand out.
Some look very masculine and play perfectly with classic black pants and pumps as well as in casual outfits with jeans. I think this is a piece that will stay attractive for many seasons, so think about how much you are willing to invest in it.  A good texture is more expensive, but you are going to wear it longer and enjoy wearing it all the time. In this case, opt for wool and cashmere.
BLAZER
Blazer is my work-to-weekend hero. In winter I don't wear thick sweaters a lot, as I prefer to dress in many layers when it is cold outside. Therefore, I wear a blazer in casual outfits a lot and try to choose items that are versatile and can be worn for different occasions. Check blazer is definitely the one that is easy to pair with classic and casual pieces.
If you would like to try an interesting outfit, mixing prints with a check blazer is the option. I like it when paired with a floral pencil skirt or a maxi skirt (or a maxi dress) for casual occasions. Stay in the same color palette of blazer and skirt and make sure that the flower print is not too big especially if you are petite.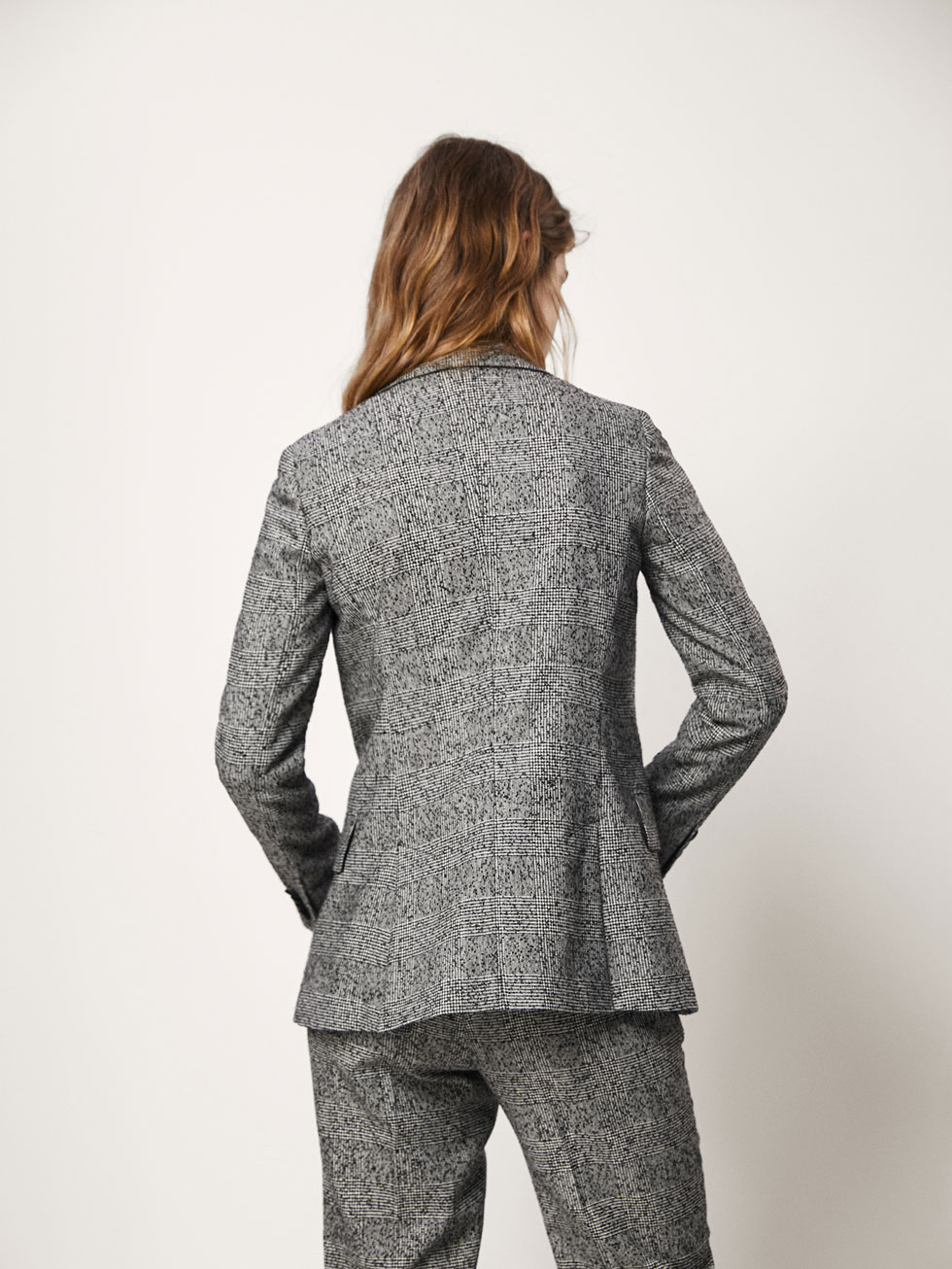 SCARF
You can always look sophisticated with a scarf in Burberry style. In winter the scarf plays an important role in our outfit – it is the main accessory to our coat and makes sure that we feel warm.
Choose a scarf that is big enough and makes you feel soft. Therefore, choose it in wool if you don't have a problem wearing it. When blended with silk or cotton it becomes softer.  But the best option is in cashmere. I like to say, check the labels, touch it and try it. I am on the hunt for my perfect check scarf at the moment.
If you have a camel or grey coat, you will look chic if you add a scarf in the similar color to your coat. You don't need to add the second color as your coat already looks elegant and interesting enough. However, if you have a black coat and you would like to avoid looking too black, adding an interesting scarf makes a different outfit.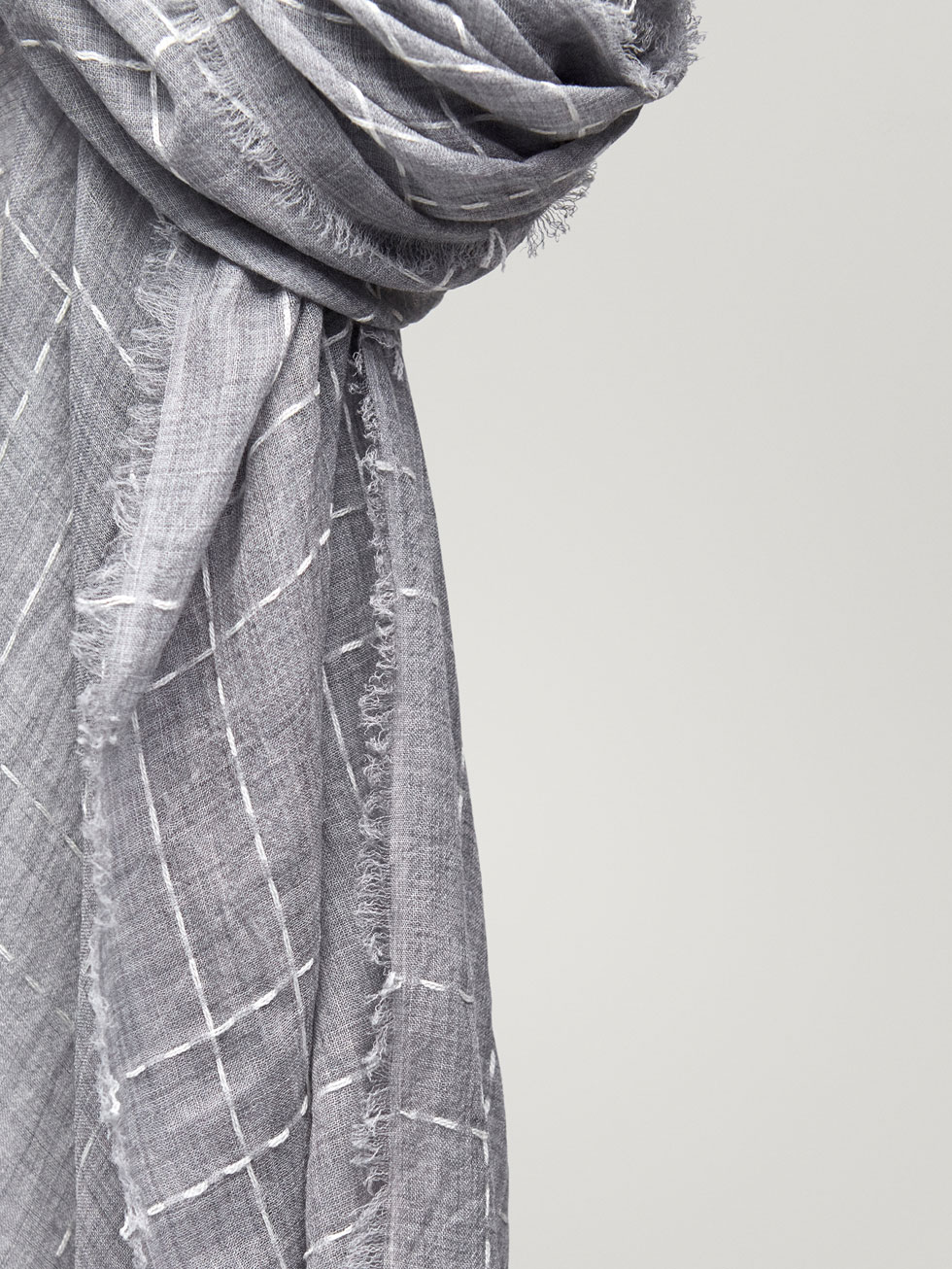 SHOES
There are plenty of different accessories in check right now. In case you don't want to add a bigger piece or you don't actually need any of them, you can still upgrade your wardrobe with an accessory in check – even with shoes.
#2 VELVET
Velvet is so beautiful in winter – warm, soft, and glamorous also for evening occasions. Velvet looks mysterious. It reminds me of history, the Victorian style when everyone was wearing velvet and white blouse with high collar.
BLAZER
This is definitely my first choice that I would recommend, even if you are not a blazer lady. You will wear it at the office, in the evening, and also for casual occasions with jeans. There is a chance you already have a black one. Therefore, opt for any other dark color that complements velvet, like blue, burgundy, and emerald.
DRESS
A velvet dress looks well with a flower pattern or just clean, especially as a slip dress for the evening. You can mix an evening dress with day pieces and find the opportunities to wear it. There are different options of velvet dress; find the one that flatters your body shape.
I recommend buying it since it is a versatile piece that can be dressed up or dressed down.
I was looking for mine for quite some time, and the one that I found was love at first sight – a floral midi dress. I like wearing it vice versa so that the back side is in front and has no cleavage. When I change the accessories and high heel boots with casual ones in military style, it becomes a totally different outfit. Definitely wearing it on repeat this winter.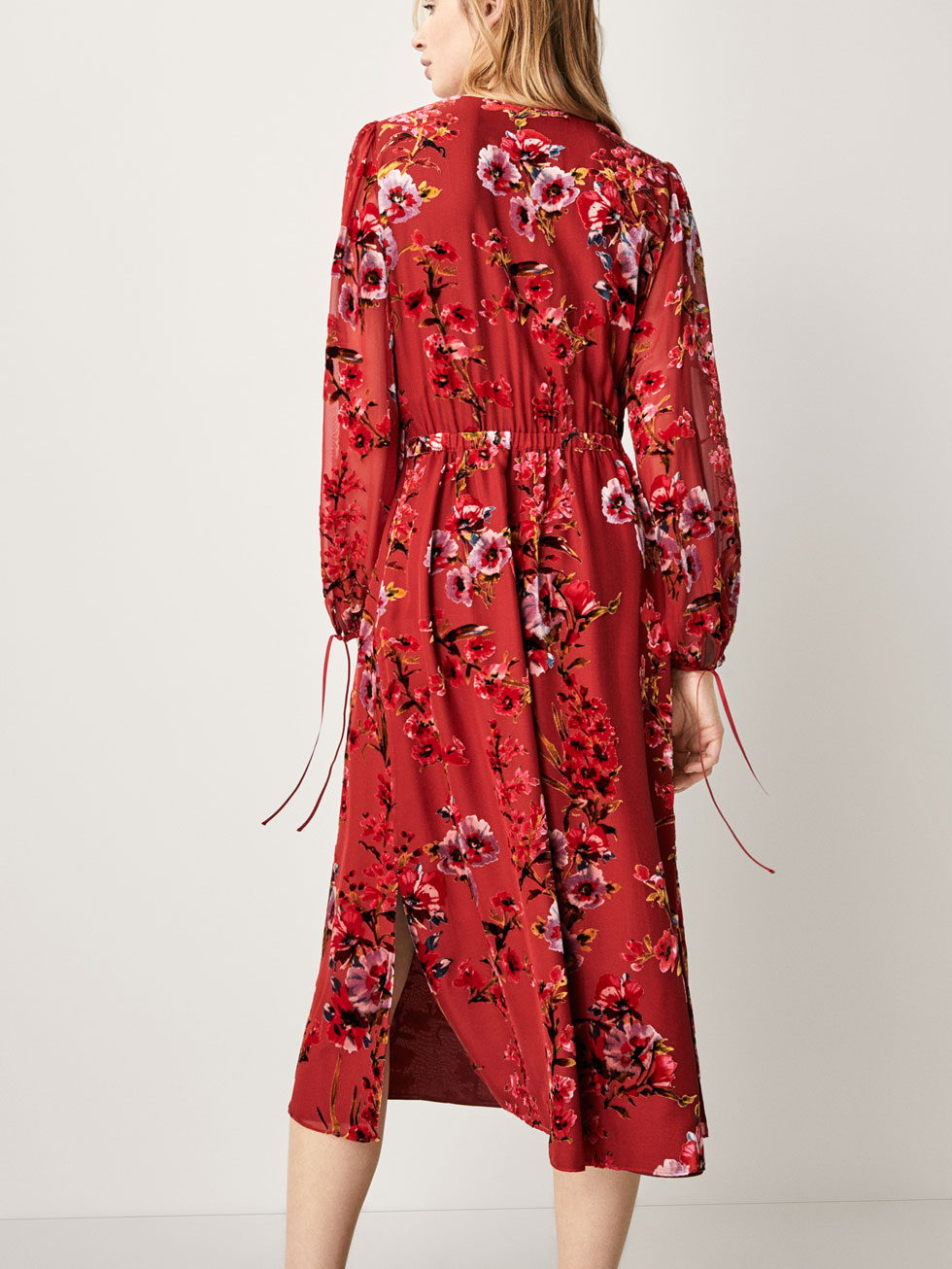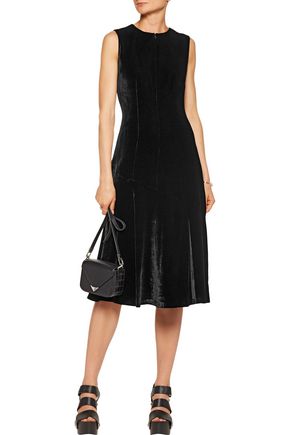 SHOES
This is the second season that you can see velvet shoes everywhere and it looks like this trend will stay for some time. You can find many really beautiful boots and court shoes in velvet. Some of them almost look like art. Why not? You will get noticed even if this is the only interesting piece of your outfit.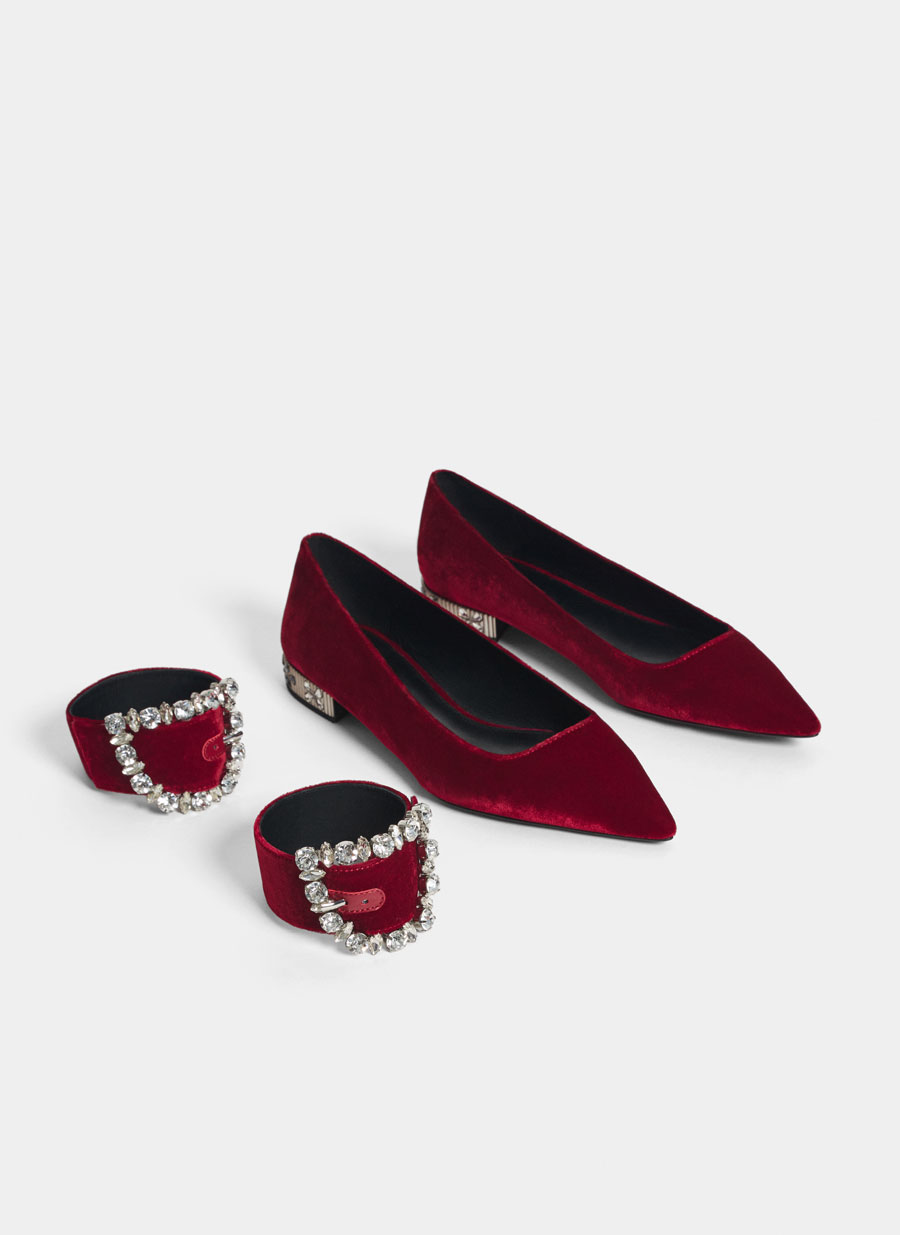 #3 MONOCHROMATIC OUTFIT
I am so excited that this look is back as I adore it for two reasons – the monochromatic outfit is a significant way of power dressing that communicates confidence and with a change of the business environment, does not involve only a suit. Basically, it allows you to be creative with pieces of the same color.
The second reason is that a monochromatic outfit will make you look tall, which will make you feel confident and chic.
In black it is not something new and might not be the best solution, especially if you wear a lot of black just to keep attention away. So try any other bright or bold color that compliments your skin tone. I like to wear camel and white. Camel is elegant, both modern and mature, and always appropriate. In white you stand out especially during the winter; it also helps you look organized and responsible.
Monochromatic outfits are chic also in bold colors; in burgundy and emerald, you will look sophisticated. For a special occasion wear red, if you feel confident enough.
Check your closet to see in which color you would build your monochromatic outfit and add any item that is missing.
#4 PIECE IN MAUVE OR LILAC
I don't know about you, but I can hardly wait for spring. Although I love holidays in December, I am freezing in winter, and that is why I don't like it. I usually start to check the spring collection early in winter and like to buy any piece which reminds me of warmer months –  just to have a feeling like spring will come soon.
Currently, I am looking for any item in mauve or lilac. Mauve is a pale purple color. It is similar to lavender and lilac. You can find it in different shades – in a dark one it is quite close to grey and in the bright shade, it is almost lilac. I already have a coat in dark mauve from last year, and I adore it. It is just slightly different to bright grey.
Now I would like to have a piece close to lilac. For me, it is the color which raises me up on grey winter days. And based on the pre-spring collections, it will be the color of the spring. Victoria Beckham has shown interesting pieces in lilac, including court shoes in her pre-spring show.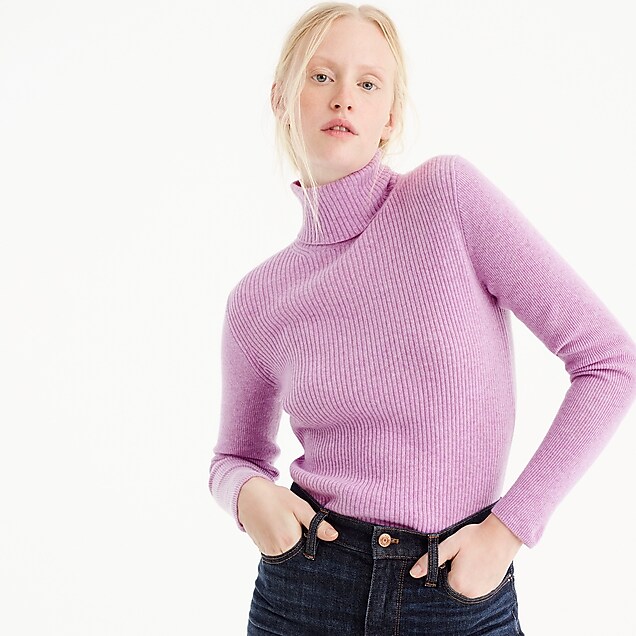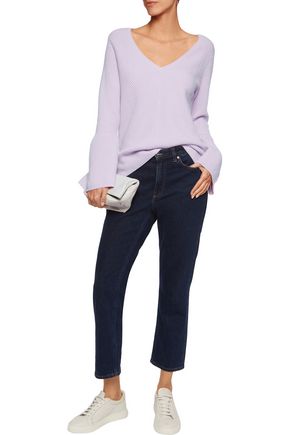 #5 BROOCH
Jewellery is perfect if you just want to upgrade your existing wardrobe without really adding any main new pieces. This time I would add a brooch.
I am 100% here for the return of brooches. Have you seen the Erdem collection for H&M? Then you know what I am talking about – there were many brooches on collars and blazers. I like them also on sweaters.
I am so excited that they are back. I have two that my grandmother gave me – they are very very old, but still look interesting. It is a piece that everyone notices. I wear them with a bow or alone, on a blouse or a blazer – especially on a velvet blazer.
A brooch is one more item that I like from the Victorian style. If you don't like that style, you can find brooches in a clean style that can be paired with an elegant, classic outfit.
WHAT IS YOUR ONE GOAL FOR 2018?
What is your most important goal you are looking to achieve this year? It could be style related or something else, like career or family.
This is going to be the best year yet!
Iris